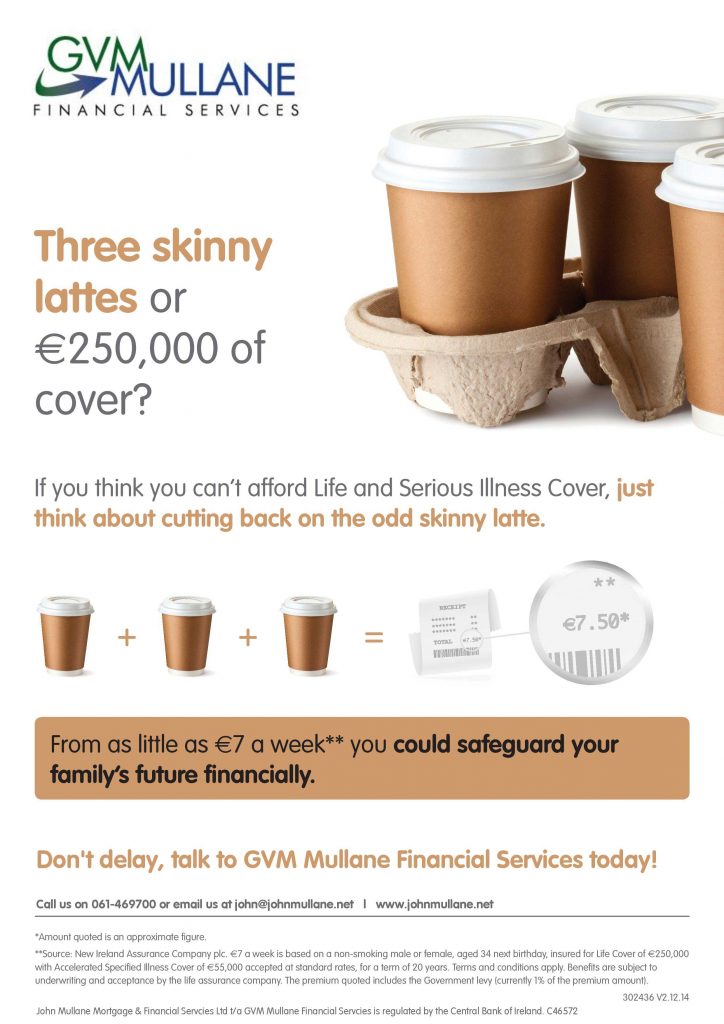 Three skinny lattes or €250,000 of cover?
If you think you can't afford Life and Serious Illness Cover, just think about cutting back on the odd skinny latte.  From as little as €7 a week** you could safeguard your family's future financially.
Don't delay, talk to Mullane Financial Services today!
Call us on 061-469700 or email us at john@johnmullane.net  – www.johnmullane.net
---
*Amount quoted is an approximate figure.
**Source: New Ireland Assurance Company plc. €7 a week is based on a non-smoking male or female, aged 34 next birthday, insured for Life Cover of €250,000 with Accelerated Specified Illness Cover of €55,000 accepted at standard rates, for a term of 20 years. Terms and conditions apply. Benefits are subject to underwriting and acceptance by the life assurance company. The premium quoted includes the Government levy (currently 1% of the premium amount).  302436 V2.12.14
John Mullane Mortgage & Financial Services Ltd t/a Mullane Financial Services is regulated by the Central Bank of Ireland. C46572